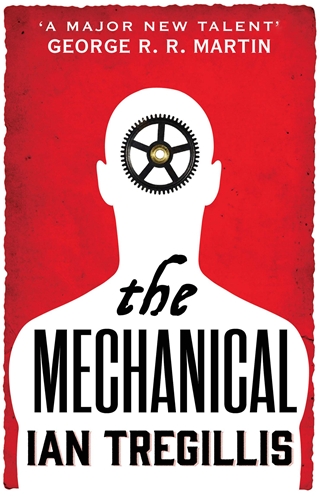 In 1676, the Dutch polymath Christiaan Huygens invented the Clakker: a clockwork simulacrum of a human being, endowed with superhuman strength and boundless stamina. 250 years later, the Netherlands are the world's sole superpower; only small French and Papal outposts in the New World dare to defy the Brasswork Throne.
The Dutch believe their never-ending Golden Age is built on the labors of unthinking, unfeeling machines. They're wrong.
Available everywhere. Please support local book stores when possible.
Related Short Fiction
"Come the Revolution" The Magazine of Fantasy and Science Fiction (Mar./Apr. 2020)

Reprinted in The Year's Top Tales of Space and Time

(Sep. 2021)

Reprinted in The Year's Top Robot and AI Stories (Dec. 2021)
Read eyewitness accounts of the fall of London.
Would you like to lease your own Clakker? Be sure to study the terms and conditions first.
Translations and Cover Art
The Alchemy Wars novels have been translated into Chinese, Italian, Polish, Hungarian, and Turkish. You can see some of the amazing artwork for those editions here.
Raves for the Alchemy Wars
The Mechanical
"The Mechanical is as intricate and exquisite as the clockwork wonders it brings to life." —NPR Books
"Tregillis (Something More Than Night) launches a series with this superb alternate history… Tregillis's complex setting is elegantly delivered, and the rich characters and gripping story really make this tale soar." —Publishers Weekly (starred review)
"Tregillis (Bitter Seeds) presents a fascinating look at the nature of free will and the existence of the soul, wrapped up in an absolutely thrilling adventure story. Jax is an amazing, sympathetic character, and the world of the clockmakers and their slaves is so absorbing that readers will be dying for the next entry in this new series."—Library Journal (starred review)
"The first thing readers will say after finishing this splendid book is: 'Wow.' The second thing will probably be: 'When can I read the next one?' … This is a rousing SF/fantasy adventure, with a brilliantly imagined and beautifully rendered alternate world."—Booklist (starred review)
"Riveting… Tregillis brings an intriguing touch to his narrative…It's also just plain exciting, with intense fight scenes and exhilarating narrow escapes."—RT Book Reviews (4.5 stars)
"[Tregillis's] characters are as convincing as ever, the plotting is beautifully articulated, the tone relentlessly grim and sometimes horrifying. And while the action rarely flags, Tregillis manages to pack in a good deal of philosophical probing… Readers with an interest in dark, intelligent fantasy will find much to admire here."—Kirkus
"The Mechanical is an excellent novel. Truly excellent: I have rarely found myself this gripped by a book…Tregillis has an excellent eye for characterisation, and a master's grasp of how to build tension to the breaking point…a thing of beauty."—Locus
"A lot of the success of an SF series depends on the author's skill at world building. How interesting and fully developed is their vision of an alternate reality? Ian Tregillis passes this test with flying colours in The Mechanical."—The Toronto Sunday Star
"This densely written novel [is] a small miracle of world-building… There are a number of marvelous action scenes, hallucinogenic in their over-the-top big-screen violence, but the real attraction here is Tregillis's narrative ruthlessness, which manifests as willingness to take his characters to the brink of hell…[sic] and then, rather than yank them back at the last second, push them in."—SciFi Magazine
"Hugely entertaining."—SFX
"With The Mechanical Tregillis displays the craftsmanship and precision of a master clockmaker. His world building is intricate and textured with specific detail. There is a convincing and consistent logic to the political, economic and social consequences wrought by the invention of Clakkers in the book's alternative history setting. Furthermore, Tregillis skilfully portrays characters that are as compelling and sympathetic as they are flawed and conflicted… [T]hese moving gears eventually came together to tell a precisely calibrated story about free will and the nature of the human soul."—SFFWorld
"This book is genius. Really, that's all you have to know… I want more!!"—Bookworm Blues
"The Mechanical is thrilling philosophical clockpunk."—B&N Sci-Fi and Fantasy Blog
"One of the sharpest, most intelligent, hugely compelling works I've read this year, and I cannot wait to see where Tregillis takes this series next. "—Forbidden Planet
"The characters are realistically flawed, the stakes are high and the settings highly detailed and believable. The Mechanical is an engaging start to a thrilling series. Discover: A well-thought-out alternate history with vivid characters in every exciting scene."—Shelf Awareness
"A multi-layered literary confection… tight and well constructed, and an absolute pleasure to read… absolutely fascinating, and unapologetically clever."—Sci-Fi and Fantasy Reviews
"[S]tunning… [Tregillis]'s talent and imagination are incredible."—Summer Reading Project
"Tregillis returns to alternate history in The Mechanical, outdoing himself once again with an inventive blend of mind-blowing fantasy, history, and existential philosophy…What can I say but I'm just completely awestruck by the world Tregillis has created here…He offers a whole new vision to steampunk in The Mechanical, presenting a heart-pounding tale of intrigue wrapped around a philosophical core."—The Bibliosanctum (5 of 5 stars)
"The Mechanical is a delight to read. The setting is solid and believable; the plot, interesting and intriguing; the characters are completely three-dimensional and easy to relate to. I highly recommend reading it and I'm sure it will become one of the most important books in a year that it's already proving to be full of excellent novels."—Sense of Wonder
"The Mechanical is as good as it gets… If you only read a couple of books this year, make this one of them."—My Bookish Ways
"Seriously good stuff…This book grabbed me from the very beginning and didn't let go the entire time. Even at nearly 450 pages I didn't want the book to end. I could have easily read again as much and still loved every minute of it. The turns that the story took and the conflicts it tackled were brilliantly executed. It was fun and engaging and made me forget, so often, that I was reading a story, and left me instead to live it. This is another one to open the coffers for, people. Such a great book, and such a great beginning that will no doubt end as another masterpiece of story-telling."—Elitist Book Reviews
"[The Mechanical] is great fun, has an incredible zip to it, and fits in some fairly profound debates about both freewill and the duty we owe to sentient life, if we create it."—Blue Book Balloon
"A fascinating world indeed…Tregillis is a capable sculptor of narrative."—SciFiNow (4 stars)
"The strong characters, intriguing world, precise language—there are some lovely details throughout—, and wholly engaging plot (I'd go further with Jax's storyline and call his compelling) combine to create a novel that is easy to recommend."—Fantasy Literature (4 stars)
The Rising
"As always, Tregillis offers richly textured and genuinely likable personalities with shades-of-gray morality…Middle volumes are always tricky; they can often read as an obstacle to overcome on the way to the forgone conclusion of the third installment. Tregillis commendably avoids this trap, deepening his story and keeping it moving along toward an unknown horizon. Part 3 can't come too soon." —Kirkus (starred review)
"Tregillis's splendid sequel to The Mechanical is a vivid alternate history tale filled with action sequences, fascinating characters, and great worldbuilding."—Publisher's Weekly
"Crackerjack."—Barnes & Noble
"Tregillis continues to thrill with his daring alt-history story of robots in the New World… Thrilling action scenes and breakneck pacing will leave readers desperate for the next volume." —Library Journal (starred review)
"The second title in the Alchemy Wars trilogy, The Rising doesn't delve into questions of humanity and free will like its predecessor, but it's nevertheless an exciting continuation of the battle between the Dutch, who use mechanical men to fight their wars, the French, who believe it immoral, and the 'clakkers' caught in the middle. Told through the eyes of three returning characters, this volume fleshes out the conflict further and throws a new wrench in the mix."
—RT Book Reviews (4 stars)
The Liberation
"Brilliantly imagined and beautifully written, Tregillis has created a perfect end to his series, filled with heroism and horror all the way to the finish."—Christopher Farnsworth, author of Blood Oath and Killfile
"Tregillis concludes his Alchemy Wars trilogy in fine style, resolving the tensions in his alternate historical setting…with a series of conflicts (both political and military) that are brutal and often heartbreaking.…This is a satisfying conclusion to an excellent trilogy."—Publishers Weekly
"Tregillis builds on the events of the previous volumes for an exciting and incredibly satisfying conclusion, and this novel and the series as a whole are recommended for anyone interested in a skillfully wrought and engagingly told fantasy narrative."—Booklist
"The final novel in the Alchemy Wars trilogy is the least philosophical of the trio, but certainly the most action-packed and harrowing."—RT Book Reviews
"A frighteningly frank and brutal consideration of slavery, post-slavery, and colonialism in metallic garb." —Kirkus
"The Liberation is part philosophical debate over human nature and choice, part contemplation on colonialism and slavery, and part action-y alternate history. It brings the trilogy to a raucous, blood-soaked end where no one gets everything they want, but everyone gets exactly what they deserve…The Liberation is great: 10/10 would recommend."—Tor.com
"[Tregillis] wraps it all up with a book as strong in action and deep in thought as its predecessors, making this series one of my favorites of recent years and one I highly recommend…The Liberation is a page-turner of a book that makes you think as much as it entertains, and the same can be said of the series as a whole. I'm sorry to see it end." —FantasyLiterature.com