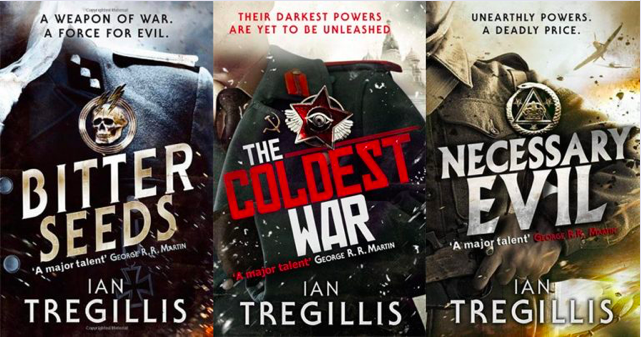 It's 1939. The British have warlocks, the Nazis have supermen, and one ordinary man is caught in the middle.
On the eve of the Second World War, British Intelligence uncovers a German mad-science program with potentially devastating consequences. Desperate to thwart the enemy supers, British spy Raybould Marsh rallies the secret warlocks of Albion to hold the line. While the blood prices demanded by Britain's demonic allies grow ever steeper, Marsh becomes the singular obsession of Gretel: a precognitive sociopath bent on shaping the entire history of the 20th Century to her own, unknowable, ends…
Learn more about Bitter Seeds at Shepherd.com.
Translations and Special Editions
The MIlkweed Triptych has been translated into Spanish, French, German, Polish, Latvian, and Chinese. You can see some of the foreign-edition cover artwork here. The original US hardcover edition of Bitter Seeds featured cover art by John Jude Palencar.
MidWorld Press has published a signed, illustrated limited hardcover edition of Bitter Seeds, featuring original color artwork by Hugo and Chesley-winning artist Julie Dillon.
Related Short Fiction
Perhaps someday I'll write "What Doctor Farquhar Saw," the third installment of this Gretel mini-trilogy…
Raves
"An unstoppable Vickers of a novel."—Cory Doctorow on Bitter Seeds
"A striking first novel."—Locus
"[A] cross between the devious, character-driven spy fiction of early John le Carré and the mad science fantasy of the X-Men… Despite the jaw-dropping backdrop and oblique plotting, the narrative is driven by character and personal circumstance… Grim indeed, yet eloquent and utterly compelling."—Kirkus on The Coldest War (starred review)
"Tregillis delivers a dynamite first novel in Bitter Seeds."—SFRevu.com
"…'Bitter Seeds' is hands down the best debut of 2010 so far."—Fantasy Book Critic
"[Bitter Seeds] receives my highest recommendations and will likely be very close to the top of my best of 2010 list."—sffworld.com
"[Tregillis] has created a unique, unsettling, and deeply atmospheric setting; populated it with a diversity of grimly fascinating characters; and turned up the heat with the sort of plot that requires those characters to keep shoveling frantically if they are ever to stay in advance of the needs of the firebox." —Elizabeth Bear on Bitter Seeds
"[Tregillis's] work is like falling down a rabbit hole: once you start it's impossible to put down."—Tor.com on The Coldest War
"The crème de la crème of SFF debuts this year!"—Pat's Fantasy Hotlist
"The writing is, simply put, stunning…This is easily one of the most impressive debut works I've read."—Bookworm Blues
"Ian Tregillis was once a student in my physics classes at the University of Minnesota. It is thus with great pride that I say that all of the success of his wonderful new novel is thanks to me! Ian is not the first student of mine who responded to the soul crushing tedium of my lectures by escaping into a rich fantasy world of the imagination, but he is the first to turn his experiences into a first class science fiction novel. Bitter Seeds is a page turner that tells the true history of World War II – where German science creates super-powered teens, countered by British warlocks. Fearless Reader, I have only two words for you as you begin this superb debut novel by a talented scientist and writer: You're Welcome!" —James Kakalios, author of THE PHYSICS OF SUPERHEROES and THE AMAZING STORY OF QUANTUM MECHANICS
"BITTER SEEDS is one of the most disturbing 'what if' alternate history books I've ever read and this is a fabulous thing."—Apex Book Company
"…Tregillis begins a saga in his first novel, one that may rival Naomi Novik's Tales of Temeraire as a sustained historical fantasy."—Booklist
"This fantasy debut… brings together the supernatural lore of World War II and wartime intrigue in this fantasy thriller that blends alternate history with period horror… [Bitter Seeds] should appeal to fans of World War II fiction, superheroes, and alternate history."—Library Journal
"Ian Tregillis has arrived and what a bright and promising voice he has brought to bear. Bitter Seeds is an extraordinarily original work of fiction…"—Mad Hatter Book Review
"…Bitter Seeds will stand as one of the better novels of 2010 and an excellent debut to what will hopefully be a long career for Ian Tregillis."—Joe Sherry, Adventures in Reading
"This is one of my favorite reads of the year… An impressive release for 2010 that everyone should read."—Speculative Book Review
"All in all Bitter Seeds is a fantastic, inventive read and a rather impressive debut novel."—King of the Nerds
"'Enthralling', 'engrossing', 'thrilling' … These were a few of the words going through my head as I read 'Bitter Seeds'…'Bitter Seeds' is nothing short of an awesome read as far as I'm concerned. "—Graeme's Fantasy Book Review
"Engrossing… Tregillis ably mixes cold war paranoia with his mythology."—Publisher's Weekly
"The best debut of 2010… the start of a dark but brilliant new trilogy that is as aggressive in scope as it is captivating in delivery."—Stomping on Yeti
"Ian Tregillis wrote an awesome sequel to a great debut… And as things stand, in this house at least, The Coldest War is the very best speculative fiction title of the year!…[It] deserves the highest possible recommendation."—Pat's Fantasy Hotlist
"Tregillis does it again, 'The Coldest War' is a book that gripped me right from the off and wouldn't let me put it down until I'd finished."—Graeme's Fantasy Book Review
"Ian Tregillis's THE COLDEST WAR is everything BITTER SEEDS was and more. I can't think of a series that I'd more love to see on the big screen."—Stomping on Yeti
"The Coldest War is a thrilling and sometimes chilling tale of spycraft, sorcery, and weird science…. Gretel is as infuriatingly inscrutable as ever and the final revelation of her ultimate plan (or at least part of it) is pure genius."—King of the Nerds